Dura Seal has been widely regarded for years as the industry's leading hardwood flooring stain manufacturer. First with the Dura Seal Penetrating Finish line of stains, and followed by the quick drying Dura Seal Quick Coat Stain line which added a number of Certified Minwax stain colors.
Now for years we have been advising people to be careful picking a stain color based on a small picture in a brochure. The same advice goes for buying online. There are many factors that affect the color of a stain on a wood floor. The type of wood; what sandpaper grit the floor is sanded to; how the stain is applied; what finish is put on top will all have a change on the exact color.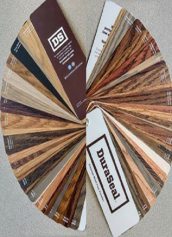 The image below was scanned from a brochure. I included the disclaimer they had at the bottom for fun. Also, be aware that your computer's monitor, what resolution, and what color settings you have on that monitor will also effect the color.
My suggestion is to narrow your color choice based on what you see here. If you are using a flooring professional, ask him to make you some samples, or better yet, be there when he has finished sanding, and you can see some samples on the floor itself. If you are finishing your floor yourself, buy a quart or two around the color you like. Mixing in Ebony stain will make any color darker. Mixing in Neutral stain will lighten them.
We also sell a Dura Seal Stain Fan Deck that has samples of all the colors on little slices of wood, which helps, but the same disclaimers above apply.