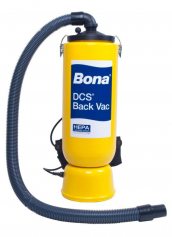 On June 4th, 2012, Bona announced the introduction of the latest rendition of the Bona DCS Back Vac. This version has all of the same features of the previous model, and adds HEPA filtration!
The new Bona DCS Back Vac comes equipped with an enclosed top disposable bag made of certified HEPA filter material that captures particles down to 0.3 micron, and complies with EPA RRP regulations. This one time use bag has a peel and stick flap to seal the contents quickly and easily. This bag acheives the first step in the double bagging process required by the EPA for RRP work.
Features and Benefits
New Filter Agitator that keeps the filter performing at high levels throughout the job.
Equipped with HEPA filter bages providing 99.97% filter efficiency.
5′ power cord allows the vacuum to be plugged directly into a Bona DCS Buffer for hassle free use.
10 Quart Capacity
115V Motor provides 124 CFM and 100″ of Water Lift
Adjustable Straps and Back Pad for a comfortable fit
1 1/2″ vacuum hose is the perfect length for connecting to a Bona DCS Buffer of Floor Wand
Comes with floor wand, crevice tool and unique "half moon" brusch for getting into tight corners.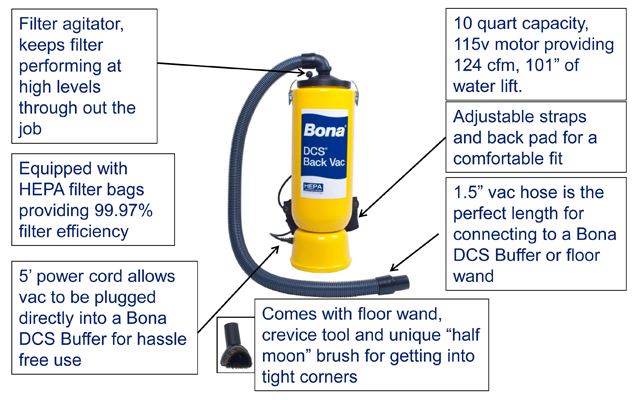 To Purchase, please visit Bona DCS Back Vac.
{ 0 comments }