We stock a #3 Common Grade Red Oak Hardwood Flooring from Henry County Hardwoods. Most hardwood flooring mills call it Utility Grade, or Cabin Grade. This is the lowest of all possible Oak flooring grades, and not regulated by any grading source, so you have to be prepared to spend some sweat, labor, and waste for at least part of what you saved on the product.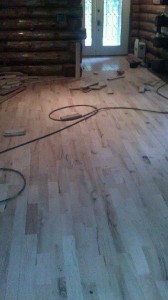 First off, it is short. Man is it short. You'll get lots of 1 foot and 2 foot lengths, and occasionally some longer boards. The next things you'll get is a lot of cracks, checking, milling burn marks, holes, missing tongues, and other various imperfections. Remember that this is everything that didn't make it into a regulated grade, so the sky is the limit on what is allowed.
I know what you are thinking, "Tell me some good stuff Jim, before I run away screaming!". Ok. For less than a buck a foot, you get a 3/4″ Solid Hardwood Floor that will last 100 years if properly installed and cared for. Hole, Knots, Cracks, et al can be filled with wood filler. Once you sand the floor, it will be as smooth as any other. Staining a rustic floor does wonders for evening out the overall color tone. You won't get it to be all even, but stepping back, all of the dark streaks kind of blend away in the over all color scheme.
Give us a call and check stock if you are interested. Cabin Grade Flooring is considered an "Accumulation Product" at most mills, meaning that they don't make it when we order it, they sell it when enough of it has accumulated off to the side over there. We usually buy it when it is available as it makes a great floor for apartments, retail stores, bars, restaurants, and of course cabins! The picture is courtesy of Wojtek who installed this very floor in his Uncle's cabin up in the great state of Wisconsin.